The best summer and winter activities in Mont Blanc
The best summer and winter activities in Mont Blanc
The legendary Mont Blanc is the highest mountain in Western Europe. Queen of the Alps, it attracts visitors every year who are spellbound by its beauty. Whether you come in summer or in winter, you'll have a great Mont Blanc adventure with The Originals Hotels. Book now your getaway and get up to 30% discount on your accommodation with our Smooth Rate!
Mont Blanc in summer
Hiking in Mont Blanc is the main attraction for anyone who visits outside ski season. There are hundreds of Mont Blanc routes. Novices should try Lac de Presset and Pierra Menta, with a gentle, gradual rise that's not too taxing. For hardened adventurers, the Tour du Mont Blanc will take you several days as you cross the entire mountain.
Keep your eyes peeled while on your Mont Blanc hiking route: You may spot some of the local wildlife, including the iconic Alpine ibex, instantly recognisable for its enormous horns.
Mont Blanc climbing is another popular summer activity. It usually takes three days to climb to the summit, but shorter routes are also possible.
Mont Blanc in winter
Winter in the Alps means one thing: Skiing! Of course, skiing in Mont Blanc is hugely popular. Visit the Chamonix Valley for some fo the best runs in the world. Snowboarders are also welcome.
You can still enjoy a bit of hiking in winter, though it will be a very different experience. Winter Mont Blanc tours are available, where you'll go for a snowshoe trek through the frozen landscape.
Your hotel near Mont Blanc
After a day of adventure, you'll want hearty food and a cosy bed. You'll find both at Chalet-Hotel Hermitage, The Originals Relais. This luxury hotel is set in an authentic mountain chalet for inspirational surroundings.
The Originals City, Hotel du Faucigny, Cluses West is a friendly 3-star hotel which offers a warm welcome. If you visit in summer, don't forget your swimsuit, as there's an outdoor pool on site that's lovely when the temperatures are high.
Finally, if you really want to unwind, stay at Chalet-Hôtel Neige et Roc, The Originals Relais. This spa hotel near Mont Blanc has indoor and outdoor pools and a full relaxation suite, making it ideal for those who want to chill out.

End Of Article
2
HOTELS SELECTED FOR YOU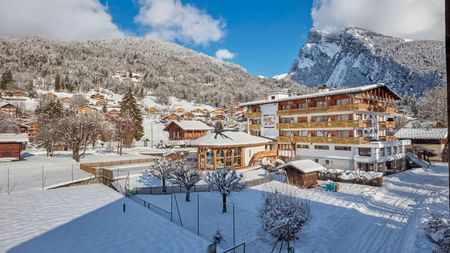 Samoëns , France
Chalet-Hotel Neige et Roc,
The Originals Relais

(Hôtel-Chalet de Tradition)

253, Grande Rue Route de Tanninges, 74340 Samoëns See on map
WiFi

Fitness room

Free hotel car park

Restaurant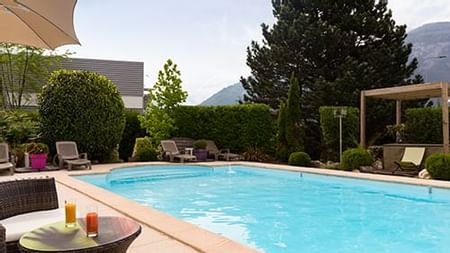 Scionzier , France
The Originals City,
Hotel du Faucigny, Cluses West

(Inter-Hotel)

ZAE Les Bords d'Arve 170, rue César Vuarchex, 74950 Scionzier See on map
WiFi

Air-conditioned room

Free hotel car park

Pets admitted
Subscribe to our newsletter to receive our latest offers
SUBSCRIBE