Weekend breaks for golf lovers
Weekend breaks for golf lovers
With France's epic mountain vistas and pastoral landscapes, golfing is never boring. There are more courses than any other European destination, suitable for every budget, season and skill level. A golf holiday in France offers plenty of off-course fun, too, from historical detours to art-filled escapades. Here's our guide to booking the best golf break in France.
Book now and take advantage of our special offer to enjoy a beautiful stay at a very low price!
Play golf in France with these delightful stays
French golf holidays offer fun for seasoned players and newcomers with varied courses amid spectacular scenery and must-visit towns. There are various options when booking your stay with Originals Hotels – opt for a convenient golf hotel or enjoy tranquil stays in golfing regions. When it comes to golfing resorts, Hotel du Golf de l'Ailette in Aisne boasts stunning lakeside grounds with waterfront dining. When you're not hitting the 18-hole golf course, you can indulge in water-view spa treatments and outdoor Jacuzzi dips.
On the south coast of Brittany, Hotel du Golf de Saint-Laurent offers one of the most scenic golfing settings in Western France. The green of the 18-hole course is at your front door, and close to many other prized golfing spots, including the scenic, sea-view Golf de Ploemeur Océan. Back at base, the hotel offers post-golfing fun, from sauna and swimming facilities to a traditional French eatery for gourmet breaks.
Unwind and absorb French culture
Enjoy the dazzling scenery of France with day trips from your hotel. In the vibrant Dordogne region, the charming 17th-century Le Moulin de Mitou provides a slice of old France in the village of Auriac-du-Périgord. From its romantic and ivy-strewn exteriors to its spa facilities and breathtaking garden pool, it's the perfect base to explore the region's chateaux. A golf course and country resort nearby provide excellent days out when you're not exploring historical hotspots like La Roque Gageac.
Experience the bliss of Pays de la Loire with Domaine Le Martinet, a delightful 18th-century mansion with tasteful original wooden features. With plenty of character and facilities for unwinding under the Vendée sky, you can swim after a day's golfing nearby, explore the island of Noirmoutier or trace history in Nantes.
Book golf hotels in France
Book an Originals Hotels to play at the best golf courses in France. Pick from eye-catching golf resorts or book a retreat in easy reach of celebrated courses for an unforgettable golfing break.
2
HOTELS SELECTED FOR YOU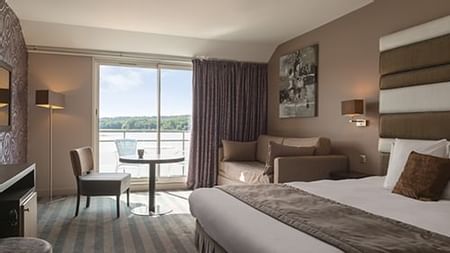 Chamouille , France
Hotel du Golf de l'Ailette,
The Originals Relais

(Qualys-Hotel)

23 Rue du Chemin des Dames, 2860 Chamouille See on map
WiFi

Air-conditioned room

Free hotel car park

Pets admitted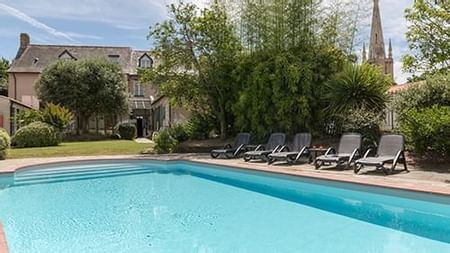 Bouin , France
Domaine Le Martinet,
The Originals Relais

(Relais du Silence)

Place du Général Charette null, 85230 Bouin See on map
WiFi

Free hotel car park

Pets admitted

Outdoor swimming-pool
Subscribe to our newsletter to receive our latest offers
SUBSCRIBE