Paris After Dark: Things to do at night in the City of Lights
Paris After Dark: Things to do at night in the City of Lights
Paris is one of the best-loved cities in the world for its nighttime appeal. In winter especially, the city lights up with promise and visual splendor. From illuminated attractions to the big shows, you won't be bored for a second! Read on for our suggestions regarding the best things to do in Paris at night.
Unlock now our smooth rate offer and enjoy a memorable stay at the Originals Hotels!
Shimmering Lights
Paris earned the name "City of Light" for its pioneering gas-lit boulevards. These days the city lights shine even brighter and there are some cool things to do in Paris at night. Winter's early sunsets are great for viewing the illuminated Eiffel Tower. You can take it in from some pretty special destinations, like the Arc de Triomphe or Place du Trocadéro.
The dark evenings are also perfect for nighttime Seine River cruises. The watery reflections offer a special kind of magic as you drift along. A gentle stroll along the riverbank is also an evocative romantic experience. There are splendid views from the city's famous bridges, like Pont Neuf, Pasarelle Debilly, Pont Alexandre III and Pont des Arts.
Shows and Sights
Many of the attractions in Paris are available well into the evening. The famous Catacombs are open until 20:30 most nights. The dark makes them one of the most atmospheric things to do in Paris at night. If all that feels a little chilly, enjoy some indoor entertainment by treating yourself to a show at the Moulin Rouge or Opera Garnier.
Where to stay
You won't be surprised to learn we have some excellent accommodation for you in Paris! The Originals City, Hotel Lecourbe, Paris Eiffel Tower is situated on the left bank of the Seine River, which makes it the perfect place for viewing the tower and visiting museums. If you prefer something closer to Montmartre, try The Originals City, Hotel Parisiana, Paris Gare de l'Est Train Station.

For the famed nightlife of the Marais, we recommend The Originals Boutique, Hotel du Vieux Saule, Paris le Marais and The Originals City, Hotel Paix République, Paris. You'll be perfectly located for all the fun things to do in Paris at night.
You'll find charm and sophistication in equal measure in these hotels, as well as superb services, facilities and comfort. Why not take a closer look and book your winter break in Paris, City of Lights?
3
HOTELS SELECTED FOR YOU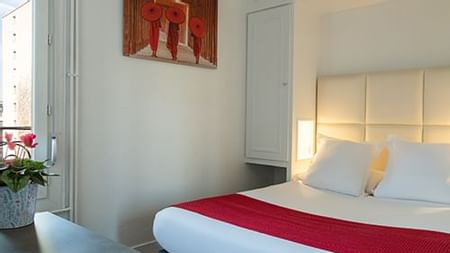 Paris , France
The Originals City,
Hotel Lecourbe, Paris Eiffel Tower

(Inter-Hotel)

28, rue Lecourbe, 75015 Paris See on map
WiFi

Pets admitted

Lift

Night porter
Paris , France
The Originals Boutique,
Hotel du Vieux Saule, Paris le Marais

(Qualys-Hotel)

6, rue de Picardie, 75003 Paris See on map
WiFi

24h access by automatic teller

Air-conditioned room

Pets admitted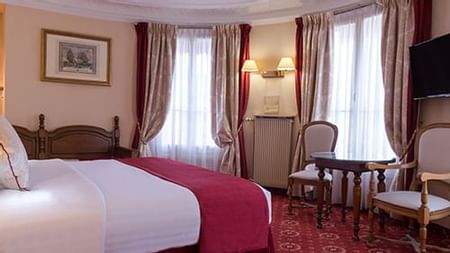 Paris , France
The Originals City,
Hotel Paix République, Paris

(Inter-Hotel)

2 bis boulevard Saint-Martin, 75010 Paris See on map
WiFi

Air-conditioned room

Lift

Night porter